Upcoming Event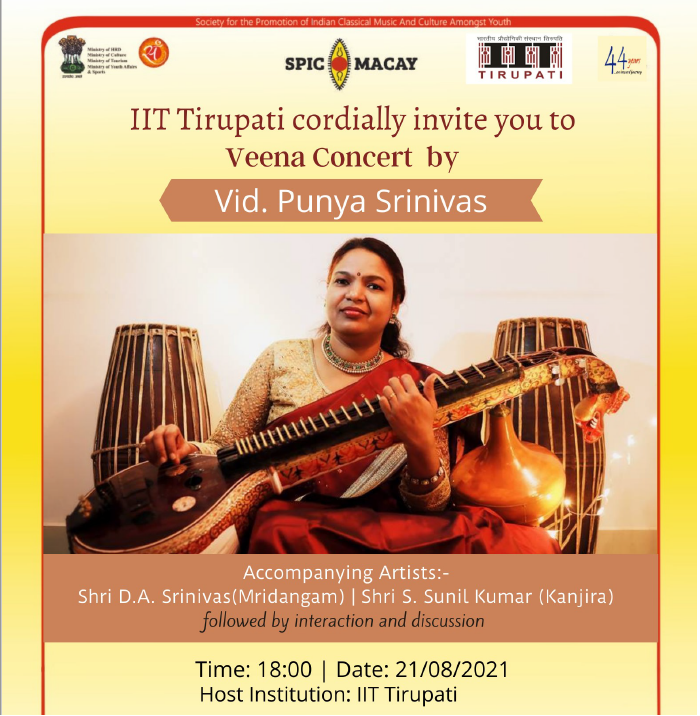 Veena concert by Vid. Punya Srinivas accompanied by Shri D.A. Srinivas on Mridangam and Shri S. Sunil Kumar on Kanjira.
Date: Saturday, August 21, 2021
Time: 6:00 pm
Link : Zoom
About Us
SPIC MACAY
Society for the Promotion of Indian Classical Music and Culture Amongst Youth, SPIC MACAY, is a non-political, nationwide, voluntary movement to have every child experience the inspiration and mysticism embodied in Indian heritage by promoting Indian classical music, classical dance, folk music, yoga, meditation, crafts, and other aspects of Indian culture. It was founded in 1977 by Dr Kiran Seth, Professor-Emeritus at IIT-Delhi who was awarded the 'Padma Shri' for his contribution to the arts in 2009. The organization aspires to cultivate traditional Indian values and create awareness of the cultural traditions and heritage of India by organizing concerts, lectures, demonstrations, workshops, informal discussions, and talks by eminent scholars and thinkers.
SPIC MACAY HERITAGE CLUB @ IIT TIRUPATI
Indian Institute of Technology Tirupati since its inception has been a vibrant seat for fine art and has witnessed and nurtured the development of art in its different forms. SPIC MACAY HERITAGE CLUB @ IIT TIRUPATI organizes program every year. The virasat series conducted from 10-18 August 2019 speaks volumes about dedication towards the cause of SPIC MACAY, considering the institute was only in the third year of association.
Events
Carnatic Music Concert of Dr S. Sowmya on April 17, 2021
Despite the constraints of the online platform, the students and faculty, along with their family members, enjoyed a mellifluous Carnatic Music recital by Dr S. Sowmya on April 17, 2021 -another event of SPIC MACAY Heritage club. She was accompanied by Embar Sri S Kannan on the Violin, Neyveli Sri R Narayanan on the Mridangam, Chandrasekara Sharma on the Ghatam and Kumari Subashri on the Tanpura. The artistes gave a mesmerizing melodic performance and clearly explained the intricacies and philosophies behind such a beautiful form of art and culture.
Violin Recital by Padmashri A.Kanyakumari on January 23, 2021
The third virtual treat organized under SPIC MACAY Heritage club was a violin recital on January 23, 2021, by Padmashri A. Kanyakumari. She was accompanied by Vidwan Triplicane K.Sekar on Thavil, Vidwan S.Sunil Kumar on Kanjira and Sayee Rakshith on violin. It was a scintillating program.
Qawwali program by Warsi Brothers on Saturday, December 26, 2020
Qawwali program by Warsi Brothers, Warsi Brothers are an Indian Qawwali musical group, consisting of brothers Nazeer Ahmed Khan Warsi and Naseer Ahmed Khan Warsi[1] (the Qawwāls), along with eight accompanists (the humnawa or party).
Flute concert by Sri Shashank Subramanyam on Saturday November 7, 2020
Flute concert by Sri Shashank Subramanyam accompanied by Shertalai. R. Ananthakrishnan on Mridangam and Sri. H.N. Bhaskar on Violin.
VIRASAT Series from 10-18 August 2019
The series included two workshops, a paper mache workshop by Smt. Hema Devi and a Seraikela mask-making workshop by Shri Dilip Acharya. It also included performances by renowned artists, including Pt. Vishwa Mohan Bhatt (Mohana Veena), Shri Madan Gopal Singh (Sufi), Pt. Raghunandan Panshikar (Hindustani Vocal) and The Dhananjayans (Bharatnatyam).
Carnatic Vocal by Sri Sikkil Gurucharan (13-11-2018)
The second program organized by SPIC MACAY Heritage Club at IIT Tirupati was a Carnatic Vocal concert by Sri Sikkil Gurucharan. He was accompanied by Sri Akshay Anantapadmanabhan on Mridangam and Sri V. Sanjeev on violin.
Bharatnatyam by Ms. Lavanya Ananth (12-03-2018)
SPIC MACAY Heritage Club at IIT Tirupati started its events with a dazzling Bharatanatyam dance performance- a South Indian classical dance form, by the young, energetic, and upcoming talent Ms Lavanya Ananth. She was accompanied by Sri Murali Parthasarathy on Vocal and Nattuvangam, Sri M.Dhananjayan on Mridangam and Sri R. Kalaiarasan on Violin.
Team
Faculty In-Charge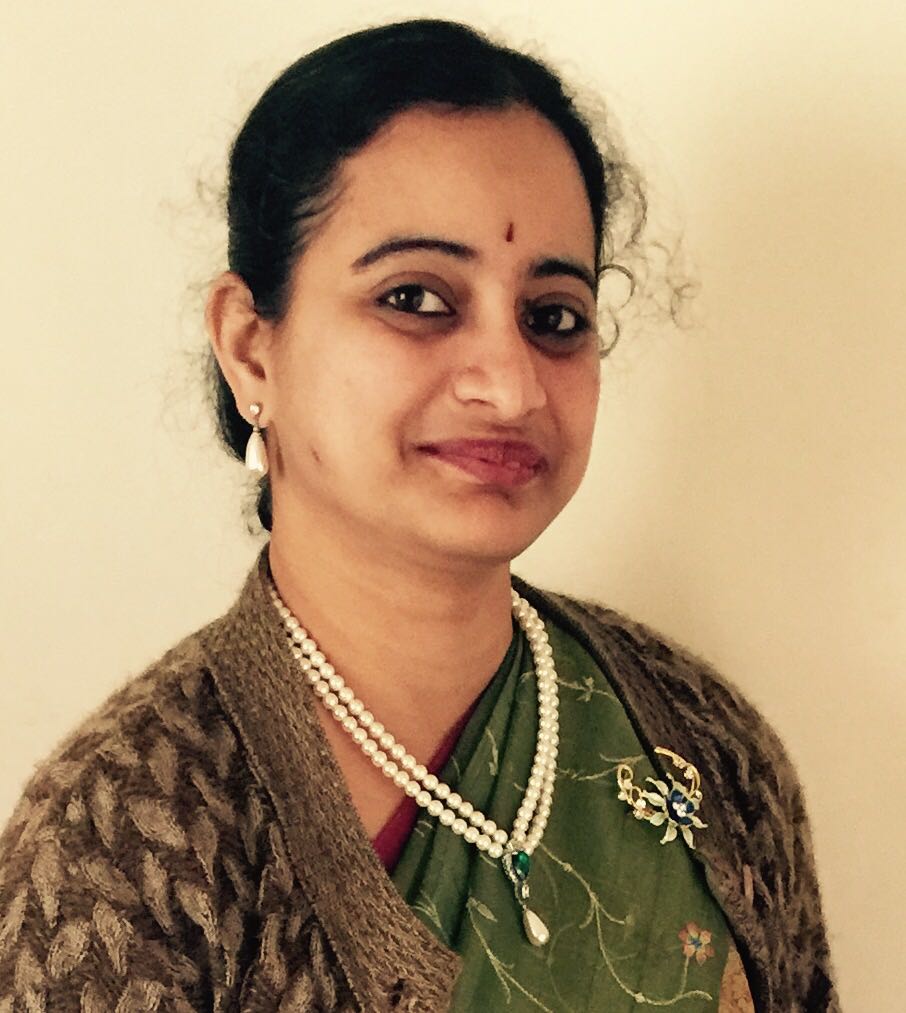 Dr. Srijanani
Assistant Professor
Department of Mathematics and Statistics srijanani@iittp.ac.in
---
Student Volunteers
Bhavan Reddy
ch20b005@iittp.ac.in
Aditya Gupta
ce18b002@iittp.ac.in
Anikhet Kumar
cs20m002@iittp.ac.in
Arvind Meena
ee19b003@iittp.ac.in
Asmit Shrivastava
ch18b006@iittp.ac.in
Kashyapi Ghosh
hs18d504@iittp.ac.in
Chandan Kumar Maurya
ee19b008@iittp.ac.in
Pranjal Shukla
me20d004@iittp.ac.in
Debashee Das
cs19b012@iittp.ac.in
Rajendra Kumar
cs19b034@iittp.ac.in
Yashas
ee18b040@iittp.ac.in
Saurabh Panchasara
ma21d001@iittp.ac.in
Madhuri Kashyap N R
ce19d003@iittp.ac.in
Kaushal Thakur
ce18b029@iittp.ac.in
Snehil Srivastava
ma19d002@iittp.ac.in
Sharad Pandey
ce20b025@iittp.ac.in